We would not be nearly as successful in our ministry if it weren't for our selfless volunteers! We thank God for each person willing to come in these doors and do whatever they can to help women and children in need. Would you like to volunteer and join us?
Get Involved
To complete an online volunteer application, click here.
To complete an online Internship Application, click here.
To complete an online Men's Ministry Application, click here.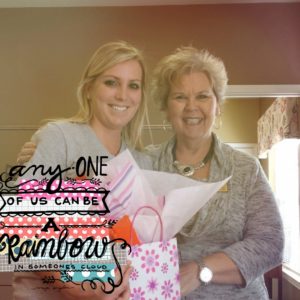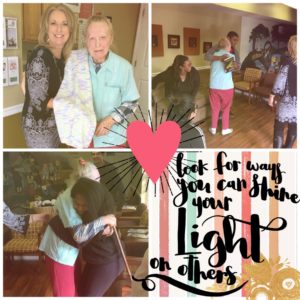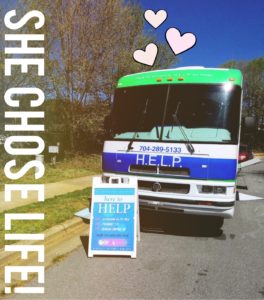 "In all things I have shown you that by working hard in this way we must help the weak and remember the words of the Lord Jesus, how He Himself said, It is more blessed to give than to receive." ~Acts 20:35
Volunteers are the heart of the ministry at the HELP Pregnancy Center! Our faithful volunteers counsel, work at the front desk, clean the building, conduct building maintenance, organize clothes, teach classes, watch children, perform ultrasounds, do pregnancy tests, act as ambassadors for the Pregnancy Center, and so much more. Thanks to the dedication of volunteers, the Center is able to function efficiently on a daily basis. Our volunteers give freely of their time, energy, and talents to serve those who are in need in our community. This is truly the work of Christ, and we thank God for our volunteers!
Volunteers are needed in the following areas:
Front Desk/Office Support
Peer Counseling (men and women needed)
Helping Hands (Clothing Ministry) – Sorting/organizing donations
STI (Sexually Transmitted Infections) Clinic Counselors (men and women needed)
Nurses/Sonographers for Ultrasound (training available) and Pregnancy Tests
Building/Lawn Maintenance
RV Drivers – for the Mobile Ultrasound Unit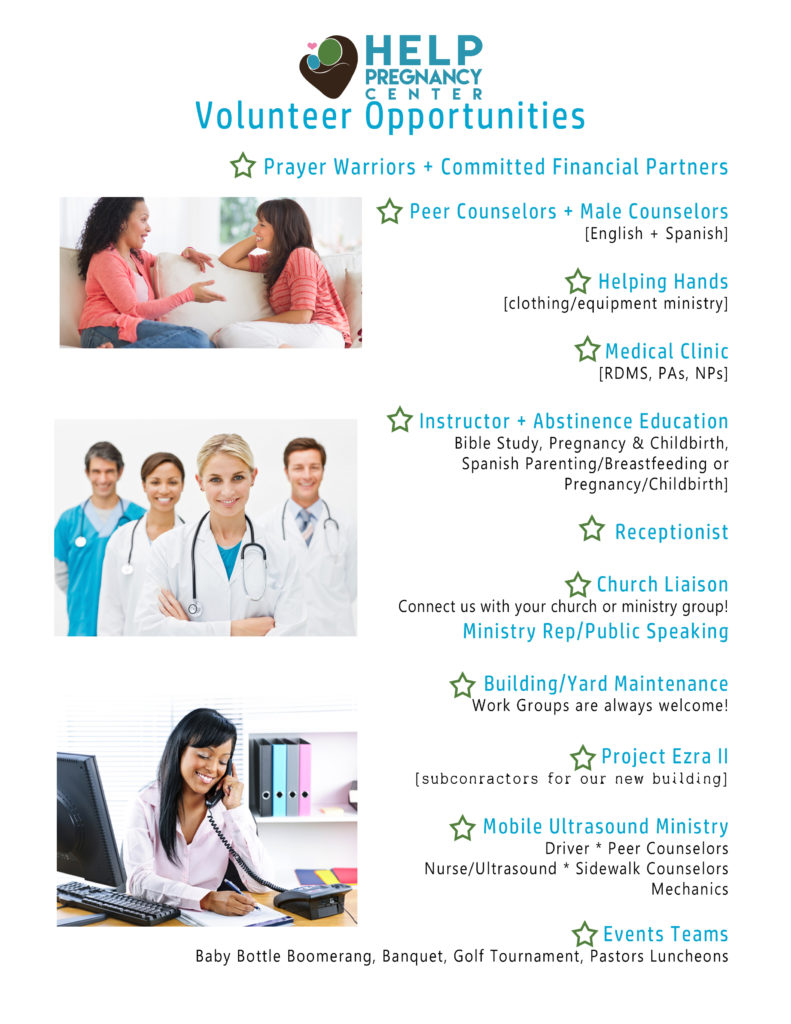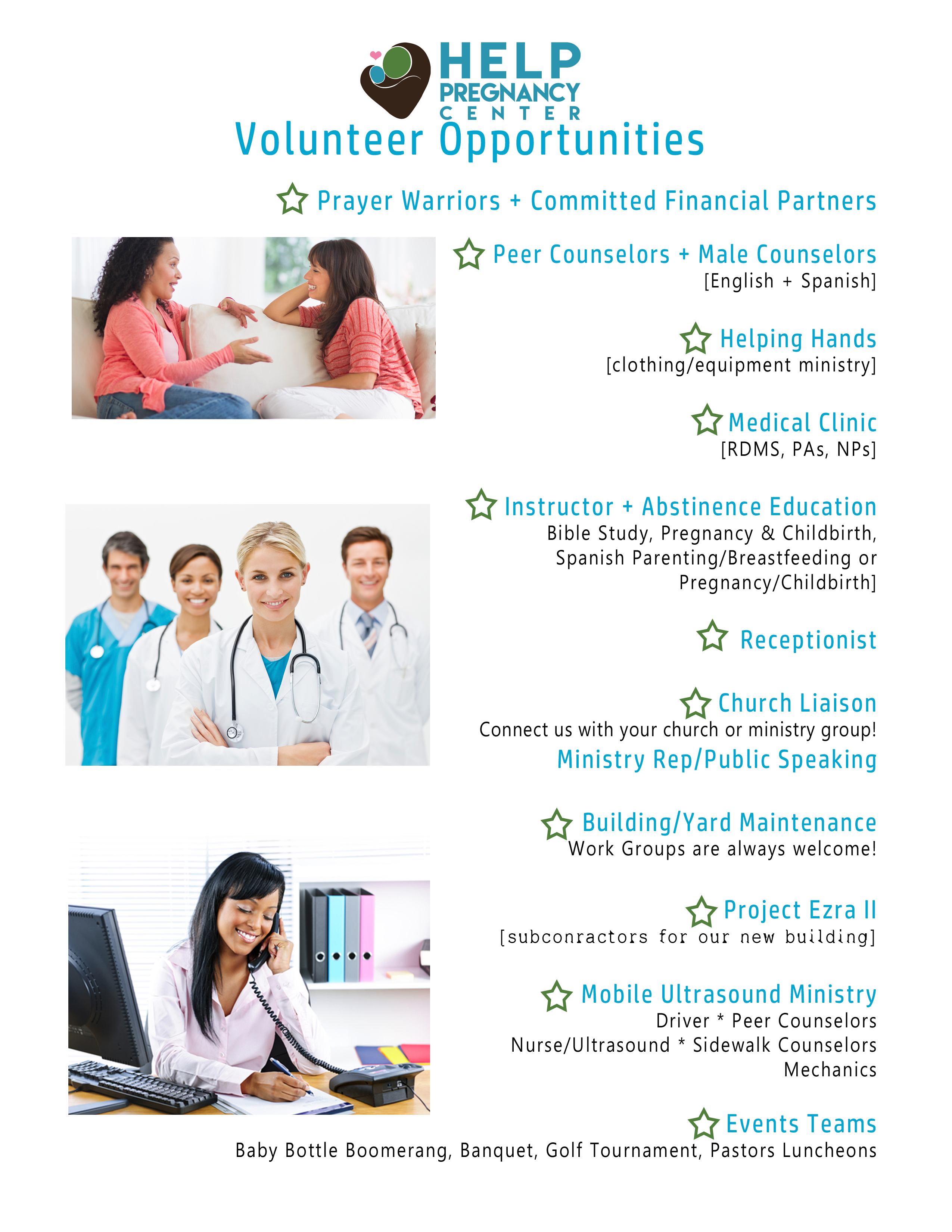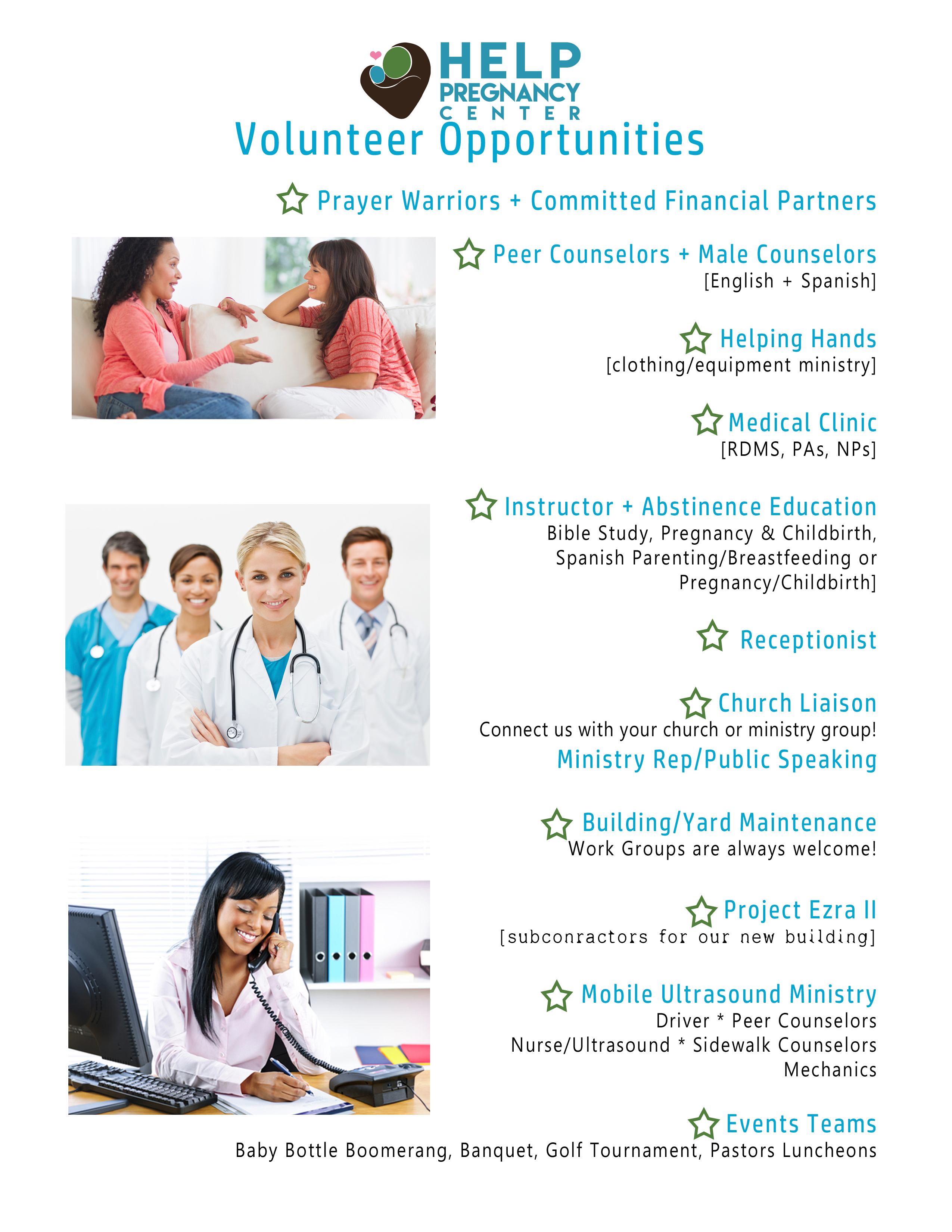 "The King will reply, 'I tell you the truth, whatever you did for one of the least of these brothers of mine, you did for me.'" ~Matthew 25:40
If you are interested in becoming a volunteer, please stop by the Center to pick up a volunteer application, and we will do our best to give you a tour while you're here. People of all ages and gifts are needed! Come find out how you can serve others at the Pregnancy Center!
"God is not unjust; He will not forget your work and the love you have shown Him as you have helped His people and continue to help them." ~Hebrews 6:10