Perfect Pregnancy Planner/P3 Class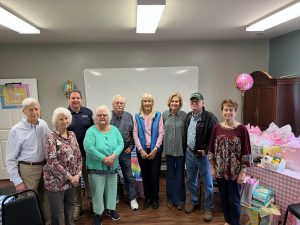 Your church or group or family can get involved in a meaningful way in the lives of the women here who choose life for their babies! Just sign up to sponsor the next Baby Shower for our P3 graduates! This class is different than our other pregnancy classes. It encourages the mother to bond with her baby, learn more about taking care of herself and her child, and gives her an adorable mementos to remember her pregnancy in a positive light. This class is longer and lasts throughout her whole pregnancy. If she finishes the class + book, then at the end of her pregnancy, we give her a baby shower! Our staff goes in to decorate the training room in pink or blue, and wraps gifts for the mama. She is allowed to invite up to 3 guests to attend the shower, and we encourage you and your church/family/class to attend as well.
SO WHAT IS YOUR PART?
Sign up to provide all of the food and drinks for the party! The types of food served are cupcakes, sandwiches, finger foods, chips/pretzels, nuts, fruit or veggie trays, and then punch.
Gifts for the Moms: We encourage the sponsoring church to get PAJAMAS for the moms and a goodie bag filled with feel good items. It will make her feel so loved and pampered.
Come to the shower and love on the mamas. PRAY over them, ENCOURAGE them and offer any great games, advise and wisdom you can muster up or remember.
To get involved, call us at 704.289.5133 and ask for Elena.